Jump to recipe
Don't be fooled…these Apple Dumplings look difficult….. but they are soooooo easy!  Just watch and see….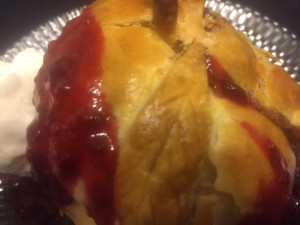 Apple Dumplings with Raspberry Sauce
*Raspberry Sauce In a small saucepan, mix 1 12 oz. package frozen raspberries (unsweetened) and 2/3 cup sugar. Cook over medium heat until boiling...mix 1/3 cup water and 1 Tablespoon corn starch together, stir into boiling raspberries and sugar, stir until thickened. Remove from heat. Allow to cool slightly. Mixture will continue to thicken as it cools.

Ingredients
6 Rome Beauty Apples (or other)
2 Packages refrigerated pie crust rolls (4 crusts total)
1 cube (1/2 cup) softened butter
2/3 cup brown sugar
1 tsp. ground cinnamon
1 egg mixed with 1 Tablespoon water
Instructions
Remove crusts from the refrigerator
Preheat oven to 400 degrees
Peel and core apples - cut the bottom of the apple about 1/4 inch so it will sit flat
In a small bowl, mix together the butter, brown sugar and cinnamon
Fill the hollowed cores with the butter, brown sugar, cinnamon mixture
Cut 3 of the crusts in half, roll each into a ball, knead until until mixed together
Using a rolling pin, on a lightly floured surface (granite counter works great), roll out to about 8 inches in diameter (so it will cover the apple completely)
Cut 6 small pieces of the remaining crust, about 1 1/2 inches square, place on the top of each filled apple, covering the core
Place apple upside down in center of dough circle
Carefully wrap and pinch dough around the apple making sure dough overlaps a the bottom
Place apples, pinched side down, on a baking sheet
Using a pastry brush, brush with egg wash (egg/water mixture)
Using a sharp knife, cut out 12 leaves, "score" each leaf with a line down the center and marks to resemble leaves
Roll 6 small pieces of dough to resemble stems, pinch and flatten at one end
On top of each apple, place a "stem" and 2 "leaves"
Brush leaves and stem with egg wash
Bake at 400 degrees for 20 minutes
Reduce heat to 350 degrees and bake for an additional 20 minutes until apples are soft and crust is golden
Serve with
*Raspberry Sauce and vanilla ice cream, if desired
I hope you will push out of your comfort zone and make these "Classy" Apple Dumplings!  Remember, if you can dream it… You can do it….and I just showed you how!  You can do this!  Confidence comes with practice!  You've heard the saying….If at first you don't succeed….try, try, again!
Helping people gain confidence in the kitchen is my dream!  I've put off doing this because I was scared 🙁  I may look confident but to be honest….putting myself out there like this is SCARY!  I'm taking my own advice and just doing it!
My greatest desire is that you find your passion and "just do it"
Yours in living your passion,
Suzi