Wrapping Paper Works Wonders…..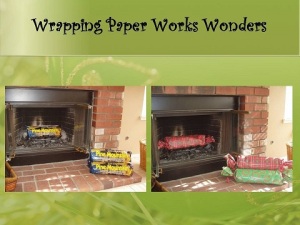 I hope you are doing well on your 6 week plan to create the perfect holiday season.  There's still plenty of time to make this your best holiday season yet!  Most importantly take time to enjoy each moment for what it is.  Here are a couple of my favorite decorating tips.  I love the convenience of pressed logs but do not like the look of them.  I actually have log covers that I made for year round but for Christmas I like to use wrapping paper because it is so fitting.  Just wrap your logs and tie some ribbon loosely at the ends.  You can light and burn the paper as well!
Mirror, Mirror on the wall?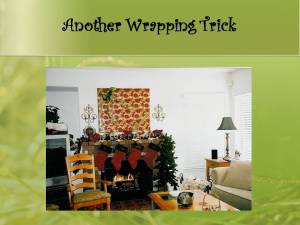 Another trick using wrapping paper is to wrap your mirrors and/or pictures that you have hanging on the wall.  It adds instant flair, is economical and sooooooeasy.  You only have to wrap a couple of inches around the back and the tape peels off easy when the holidays are over!
Got Drawers?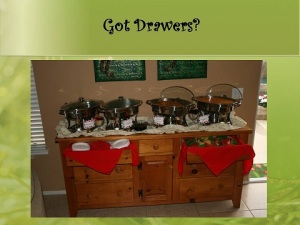 Here is one of my favorite tricks……This is actually a dresser from a bedroom set.  When we moved into this house I wanted a buffet to fit this space and I found it in my bedroom 🙂 When it came time to set-up the buffet I needed more space and the idea hit me to open the drawers and use just like you see in gift shops where they use hutch's to display items for sale.  It worked like magic!  I just lined the drawers with napkins and used for plates, forks, paper napkins and even chips!
Well….that's it for today…..
See you in a couple of days with more holiday tips and tricks 🙂
Enjoy,
Suzi