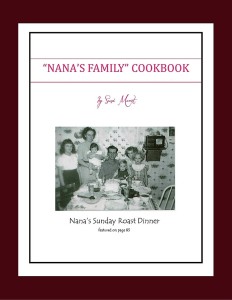 $12.00
"Nana's Family" Cookbook was originally created in 2004…
I created this special cookbook as a way of honoring my beloved grandmother, "Nana".  "Nana" was mother to 5 children, grandmother to 17 grandchildren and great-grandmother to more than I can count.  "Nana" always had room at her table to feed whoever came to her door. "Nana's Family" extends far beyond her natural born offspring. "Nana" taught us that there is no stranger and everyone was welcome to be a part of her family.   This cookbook is a collection of recipes collected from "Nana's Family" they are sure to wow and delight your family!  Only 250 copies were ever printed…..it has never been available to the public until now!
I know you will enjoy the recipes and stories that await inside to delight you and your family!
"Nana's Family" Cookbook contains more than 200 Beloved Family Recipes including "Nana's" Southern Chicken and Dumplings and "Nana's" Sunday Roast Dinner  And can be delivered to your inbox today for only $12.00  
Also, if you haven't already joined me on my blog journey, I hope you will sign up today. Each week I will be sending out recipes as well as fun instructional videos straight to your inbox. I will be sharing my cooking and creative ideas with you and encouraging you to try them out for yourself.
Thank you so much for the opportunity to be a part of your life's journey!  I'm delighted we have crossed paths!
Yours in cooking and creativity,
Suzi